The Birth of DragonOak's Wood Shop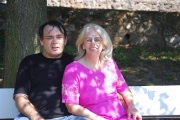 Having operated our own brick and mortar new age store, DragonOak and Gypsy Beth found that some key products were impossible to find. So Gypsy Beth and DragonOak from our previous store of Ancient Wisdom and now our wood shop at DragonOak's Wood, set out to right that wrong. Working with the metaphysical customer based we had many requests over the years for wooden runes more like that which Odin made that first time, and a result of that is our natural Odin's Choice wooden runes which fulfilled their need. Every time we got a product that even closely resembled an altar it sold immediately, and as such we have created a full line of altars. We also found many patrons looking for tarot boxes that were special and unique, and likewise we created a full line of tarot boxes unlike any on the market today. Many customers wanted a box that could hold their cards, a book, and cloth. We also found many people seeking a box to carry their ritual items from grove to mountain and back, hence our altar box was born. Ouija Boards will never go out of style, and ours are infused with 9 moon elements, placed inside the planchette, and inside the board itself, that serve to increase the boards power as a tool of divination. Our Ouija Boards are signed and numbered by DragonOak personally.
We, at DragonOak's Pagan Wood Shop, empower our customers, with many choices and the offer of custom built ritual tools. Whatever you may need, we work closely with each customer in order to create just the right piece, that is magickally attuned to you. We value our business model where the customer is always right and that if it were not for them, we would have no reason to do what we do.
DragonOak and Gypsy Beth do all the work themselves, and have no other employees. All the work is done by hand and in accordance to the ancient traditions of magick. Each piece is created using the same board or branch to keep with the continuity of the tree spirit and with the elements of nature. And to align with the values of nature our stains and finishes are kept as natural as possible.
We welcome everyone to visit our main website at DragonOak's Wood Shop. We specialize in many Pagan items, but have also custom designed many non-pagan items, which make wonderful gifts for pagans and non-pagans alike. We value all paths and feel that the nature of being on a spiritual path is more important than the path itself. Since we do custom crafting and designs, we are versatile in our ability to create something personally significant to your tastes and magickally attuned to you. Visit us, save us to your favorites, and visit often, we look forward to serving you.
Mission Statement
by DragonOak
Our Mission is to provide you with an artistic, magickally attuned, and symbol appropriate Ouija board that will provide you years of use. We create heirlooms that will last generations.
Wiccan Altar, http://www.wiccanaltar.com , creates handcrafted wiccan altrs that are magickally attuned and made with love. Our designs offer traditional symbolism used when conducting ritual and that is historically correct for this purpose. These Wiccan Altars are created with magick in mind, imbued with magickal elements, and attuned to be your personal tool.
SHIPPING INFORMATION:
Please save dragonoak.com, paypal.com and/or google.com to your safe list or spam exceptions list to avoid missing any important emails about your purchase. Due to our personalization process or themes on many products, please allow sufficient time for item to ship. All items are hand crafted from build up. Most items require time for stains and finish coats (varnish/danish oil/hand rubbed wax). Personalized items may not be refunded or returned, please specify name accurately. Orders paid by check are processed after 10 days. Custom and large items may take up to 10 weeks to complete.
International orders: please contact us for correct shipping cost if there is any question. Notice for Non-US shipments. Please email your order so that correct charges are applied if you are ordering any custom or special items. There may be additional charges if the shopping cart calculation is incorrect or your countries fees have changed. In this event an email will be sent, be sure that your email address is accurate. If you pay for your order using the shopping cart, you may receive a separate invoice for additional shipping charges to your country if there are extreme variations.
RETURN POLICY
No return or refund on personalized or custom items. Please contact us before returning any item. Our products are created to look rustic. If you feel that your item is defective, please contact us with details, including your name and shipping and email used for your payment. Please contact us for authorization first before returning a product.
Return must be shipped (at buyers cost) insured with delivery confirmation added. Delivery confirmation number or other verified shipping number must be supplied to us within 24 hours of return shipment. Refunds are issued for purchase price only, no refund on shipping/handling. Customer must contact us and notify a request for return, then ship the item back insured with delivery confirmation to us at customers cost.
We will repair or replace the item and return it to the customer. Delivery confirmation # must be supplied to us within 24 hours of return shipment.
ITEMS HAND MADE TO ORDER
Products are handcrafted to order. Please allow sufficient time for your order to be completed. An order may take from 10 days to 6 weeks (custom built altars may take up to 10 weeks) depending on the order, how many other orders we have in front of you, etc. DragonOak and Gypsy Beth have no other employees, we do all the work ourselves. This prevents the hands of too many on your magical tool. However, if we have a bad day, to avoid putting any of that negative energy into your product, we may have to take the day off once in a while.
(We work 7 days a week 10-16 hours a day).
CREATING TRULY MAGICKAL ITEMS
We build and design each product with love and positive intent. DragonOak creates each item to be a "magickal" tool and this intent is most important. Most commercial products cannot make this claim. For a definition of the process of creating real magickal items please visit The Process of Creating Truly Magickal Ritual Tools web page.
NO METAL USED IN MANY OF OUR PRODUCTS
Most of our altars and boxes are built with no metal, as it is believed by some that metal may interfere with the transfer of energy. We do add brass candle holders to many of the altars and will gladly leave the candle hole off if you prefer.
YOUR ITEM IS CRAFTED TO BE TRULY UNIQUE
Your DragonOak original piece is made especially for you after you have placed your order!
All designs are wood burned by hand and each is truly unique.
DragonOak has studied divination and ritual for many years and brings forth products fitting for your ritual and sacred space.
OUR ITEMS ARE MADE TO BE RUSTIC
Products are made to look rustic, if you feel there is a defect we would be happy to remake or repair your item.
SPECIAL REQUESTS AND/OR CUSTOM BUILDS:
Our site is not set up to add special instructions to your order, like change of design beyond the offered themes, custom sizing or placement directions. If you have special requests just drop us an email indicating your preferences, and we will send a quote for your request. Please include a link or full description of the base product you are viewing, along with all the needed changes you desire. Remember to include your shipping location for a full quote. Email Gypsy Beth
MAIL IN ORDERS
Our shopping cart will give you the option of placing your order and mailing your payment. Please make sure you include an accurate email address or phone number in case you need to be contacted with questions. Mail your order, with complete information including your ship to address, and pay by cashiers check/money order. If you do not have access to the internet to place an order you may use our Pay by Mail form. Please follow the link for our order form, print out, and complete for items you are ordering. DragonOak's Wood Shop Order Form Personal checks will be accepted if they are on US banks only and orders will not be processed until the check has cleared our bank. (If paying by check, please include your state drivers license and birth-date).
PRIVACY POLICY
Privacy Notice
This privacy notice discloses the privacy practices for http://www.dragonoak.com. This privacy notice applies solely to information collected by this web site. It will notify you of the following:
What personally identifiable information is collected from you through the web site, how it is used and with whom it may be shared.
What choices are available to you regarding the use of your data.
The security procedures in place to protect the misuse of your information.
How you can correct any inaccuracies in the information.

Information Collection, Use, and Sharing
We are the sole owners of the information collected on this site. We only have access to/collect information that you voluntarily give us via email or other direct contact from you. We will not sell or rent this information to anyone.
We will use your information to respond to you, regarding the reason you contacted us. We will not share your information with any third party outside of our organization, other than as necessary to fulfill your request, e.g. to ship an order.
We request information from you on our order form. To buy from us, you must provide contact information (like name and shipping address) and financial information (like credit card number, expiration date). This information is used for billing purposes and to fill your orders. If we have trouble processing an order, we'll use this information to contact you.
Unless you ask us not to, we may contact you via email in the future to tell you about specials, new products or services, or changes to this privacy policy.
Your Access to and Control Over Information
You may opt out of any future contacts from us at any time. You can do the following at any time by contacting us via the email address or phone number given on our website:
See what data we have about you, if any.
Change/correct any data we have about you.
Have us delete any data we have about you.
Express any concern you have about our use of your data.

Security
We take precautions to protect your information. When you submit sensitive information via the website, your information is protected both online and offline.
Wherever we collect sensitive information (such as shipping address data), that information is encrypted and transmitted to us in a secure way. You can verify this by looking for a closed lock icon at the bottom of your web browser, or looking for "https" at the beginning of the address of the web page.
While we use encryption to protect sensitive information transmitted online, we also protect your information offline. Only employees who need the information to perform a specific job (for example, billing or customer service) are granted access to personally identifiable information. The computers/servers in which we store personally identifiable information are kept in a secure environment.
We use "cookies" on this site. A cookie is a piece of data stored on a site visitor's hard drive to help us improve your access to our site and identify repeat visitors to our site. For instance, when we use a cookie to identify you, you would not have to log in a password more than once, thereby saving time while on our site. Cookies can also enable us to track and target the interests of our users to enhance the experience on our site. Usage of a cookie is in no way linked to any personally identifiable information on our site.
This web site contains links to other sites. Please be aware that we are not responsible for the content or privacy practices of such other sites. We encourage our users to be aware when they leave our site and to read the privacy statements of any other site that collects personally identifiable information.
If you feel that we are not abiding by this privacy policy, you should contact us immediately via telephone at 1-417-799-9370 or via email at TheWitchIsBack@dragonoak.com.
Contact Us
by DragonOak
Be sure and visit our main site of
DragonOak's Wood Shop
for a full selection of pagan altar tools and wiccan ritual supplies